Get The Human Experience on DVD – Grassroots Store
Posted on February 16, 2011
Filed Under News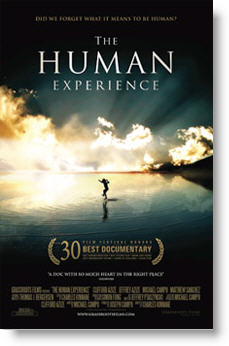 FILM SYNOPSIS
In a world fraught with hostility and violence, an altruistic group of young men endeavor to understand the true essence of the human spirit by visiting forgotten souls such as homeless New Yorkers, Peruvian orphans and isolated Ghanaian lepers. By spotlighting heartwarming stories from around the world, this uplifting documentary shows viewers that every single person, no matter his or her lot in life, is beautiful.
INCLUDES
Just in time for the holiday season, for the first time ever comes the highly anticipated DVD release of The Human Experience. This Limited Edition DVD features full length commentary with Director Charles Kinnane, Executive Producer Joseph Campo and Writer/Producer Michael Campo. The DVD includes a photo gallery with behind-the-scene photos to give you the ultimate experience.
HISTORY
Through word of mouth only, Grassroots Films has been contacted and contracted to screen The Human Experience at private pre-screenings, complete with Q & As from the filmmakers. To date the film has been viewed by more than 100,000 people at over 250 pre-screenings in 115 cities worldwide. With standing ovations as the norm and sold out shows at select Harkin's Theatres, Grassroots Films has organically created a buzz that has resulted in over 30 film festival awards and accolades.
The Human Experience Trailer
SPECIAL FEATURES
* Commentary with Filmmakers * Theatrical Trailer * Photography from the Film * Digital 5.1 Surround
Subtitles In:
* Spanish * French * German * Polish * Portuguese
THE HUMAN EXPERIENCE – ORDER YOUR COPY TODAY!
www.GrassrootsFilms.com
Comments